TOC
---
Home

---
Prices
Ceremony
Groups
Preparations
Reception
Dance
---
Extras 1
Extras 2
---
Photo-journalistic wedding coverage
---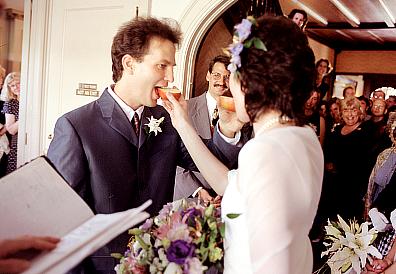 Randy and Ellen created their own ceremony, a blend of their personal backgrounds and goals in life. They wrote their own vows and read to each other their own declarations of love, each for the other. Then they split an apple, feeding their half of the apple to each other (picture above). Ellen, an editor and writer. Randy a computer guy and musician. Their families, co-workers, co-band members and more all attended. The musicians jammed with them while Ellen played piano and Randy played harmonica and sang to Ellen. Everyone danced. Randy and Ellen danced their lives together then. They are still dancing their lives with each other. They married in Kansas City. They live in New York City. June 7, 1998 Photo Mike Strong
Wedding as a Story
You might say that every wedding is a story. Documenting that story takes special effort. Weddings have been shot in photo-journalistic style for decades, mainly for expensive celeb weddings, especially in the last 15 to 20 years. Not until the mid-to-late-1990's has the style really taken off widely. That has been aided largely by the growth of digital photograpy.
Digital methods have brought down the cost-per-frame, compared to the cost-per-frame for film photography. This is important because documentary shooting is extremely costly in terms of the quantity shot compared to the quantity actually used for final prints (or video) - as opposed to posed shots. Film and processing are far more expensive in terms of money than are digital pictures.
SlideShow:
Ellen And Randy
Posed shots make some items more predictable: 1 - it is easier to make sure you have photographed everyone you want 2 - because these are the pictures you know are wanted they will manage to pay for themselves and 3 - the fixed cost per picture (film, lab, development, proof prints, time in days to number each picture with order numbers, handling and more) is reduced enormously for digital.
Human-effort times haven't changed, however. It still takes a lot of time before and especially after the ceremony for the photographer to prepare the work. Usually a multiple of the time you will actually see the photographer working. Sometimes it takes longer still because digital (handy as it is) makes it more practical for the photographer to handle the work directly rather than send it to a lab.
Black & White (Grayscale) or Color?
With digital this is not an either/or choice. Shooting color automatically makes grayscale available from the same image in a couple of keystrokes. With film either you shoot with B&W film or color film. All film can then be scanned to digital - and there are often good reasons for doing so. This can then be converted to B&W. Starting in digital is simply more direct.
There is nothing in B&W which is necessarily more artistic. Most B&W was done because that was the technology either available or affordable. The artistry is in the eye of the photographer and his or her ability to use well the available material.
In terms of usage, generally I find that color tends to emphasize the overall scene in an environmental way while B&W tends to emphasize the people in the scene focusing attention on who they are. But no such rules are absolute.
Mike Strong
Proofs on CD
Proofs are now provided on a CD-ROM which can be placed in your computer to view pictures and purchase prints. This is an easier and more flexible way to view pictures and to put in individual orders.
To purchase a picture from a proof sheet.

Click on the picture to see a separate page with just that picture on it in a larger size. You will notice that there is a drop-down list box with paper sizes. As you change the options in this box you will see the price listed to the left. To purchase, click on the "Add To Cart" button.
This will take you to PayPal. PayPal does require that you sign in as an account (or create one while you are there). I am looking for a way around this in the future.
This isn't really too painful and PayPal sends me a notice of the order in my email. I then make the print(s) and do the shipping or delivery.
I use PayPal because they take care of the security matters on credit cards, etc. I definitely don't want to have any of that information on my site where I would have to worry about security for the information.
If you would rather not go through the PayPal method you may call me directly at 816-471-4110 or email me at dancer@kcdance.com.
In either case I need to have the picture name and the size you would like to see it printed.